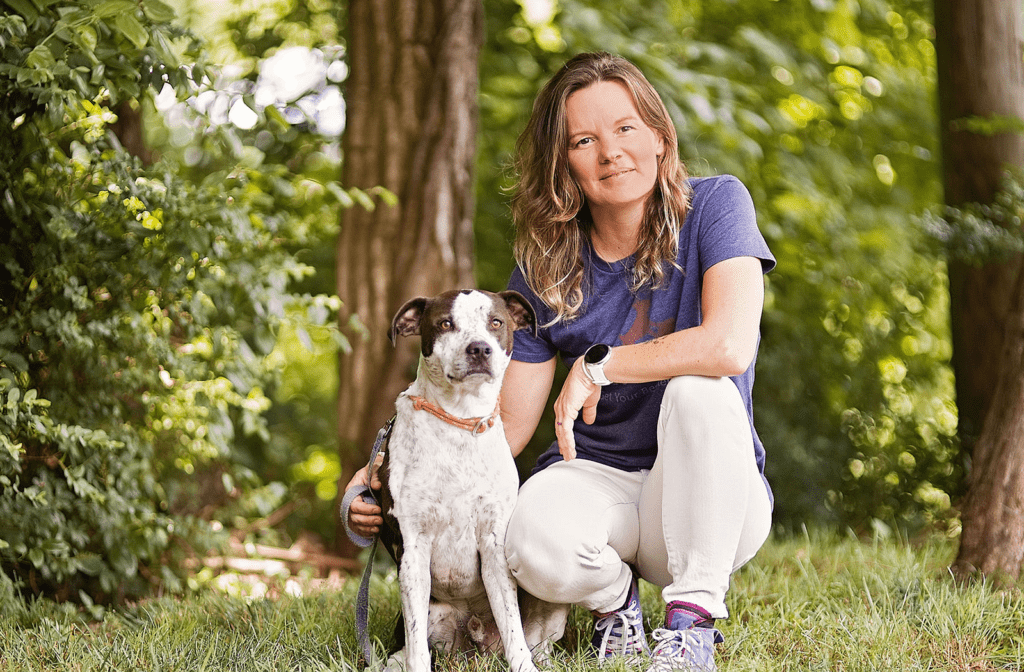 • Megan Day founded WagHab in 2011 after completing the certification program in canine rehabilitation at University of Tennessee at Knoxville.
Megan spent 8 years working with animals as a veterinary technician before pursuing a physical therapy education.
She received a master's degree in physical therapy in 2007 from Western Carolina University and worked in orthopedic outpatient physical therapy clinics for 8 years before moving to full time animal care.
Her passion has always been working with animals and she is thrilled to be able to use some of her skillset with animals.
Megan provides comprehensive physical fitness evaluations and establishes an exercise routine geared toward your dog's specific needs. She specializes in geriatrics and strengthening the athletic dog.
Additional Team Members:
• Dr. Janet Methvin, DVM, CCRP, began working with WagHab in 2012.
She received her certification in canine rehabilitation in 2013 after more than 25 years as a general practitioner.
She provides comprehensive physical rehabilitation evaluations and treatments. In addition to working with post op orthopedic and neurology patients, she has a special interest in helping pets with chronic pain and arthritis.
She has the only shockwave therapeutic modality in Western North Carolina, the newest treatment option for painful conditions and delayed healing.
You can get more information about her and shockwave therapy at www.avlpetrehab.com
• Michelle joined WagHab in 2017.
She has a BA and MLIS (Master's of Library and Information Science).
She also has an extensive background in animal care, including caring for her own dog that was diagnosed with a degenerative spinal condition.
She is Fear Free Certified (Professional Veterinary Certification Level 2) and completed the Veterinary Assistant course through the ASPCA. She is very tuned in to the dog's mental state and behavior, ensuring a relaxing and stress free experience.
She has been an invaluable asset to the WagHab team. She assists Megan and Dr. Methvin, performs clerical duties, and also works with the dogs in the water treadmill and helps perform their exercises.
• Connie joined the WagHab team in 2020.
She has a true love for animals and a unique, empathetic bond especially with dogs. Her path in life has brought her to WagHab by way of the ASPCA where she developed her skills in animal care and behavior.
She plans to build on her training as a human massage therapist to provide even more care and comfort by becoming certified in dog massage. Connie lives with her partner and 3 dogs and 2 cats in a little cabin in the woods.
She welcomes the opportunity to help your babies find a safe place to heal and become stronger and happier.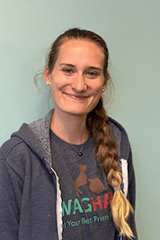 • Emma joined Waghab in 2021.
She received a B.S. in Animal Science and a B.A. in Spanish in 2017 from Berry College.
For the last 4 years she has been working as a Veterinary Assistant at a general practice and emergency veterinary clinic.
Emma competes in agility, dock diving, and other dog sports with her three dogs and is passionate about canine fitness and conditioning. She lives on a farm with her Australian Cattle Dog, two Border Collies, and various other animals including horses, cats, goats, a mini donkey, chickens, and a python.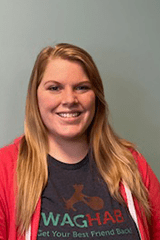 • Chloe joined WagHab in 2021
She has a BA in Sociology/Management from UNCA with an extensive history in client care, office management, and accounts receivable.
She's always had a natural instinct with animals, especially dogs. Her years of client care in a veterinary hospital developed her handling skills and taught her about animal behavior.
She is also Fear Free Certified (Professional Veterinary Certification Level 2). She is particularly familiar with the dog's body language and mental state, providing a stress free environment for everyone.
Her free moments are spent exploring Asheville with her perfect pitbull terrier Beyonce.